Episode 190: Michael and Kathryn interview Robert and Kay Lee Fukui, marriage and business coaches and authors, about their new book Tandem: The Married Entrepreneurs' Guide For Greater Work-Life Balance and how their business came to be. If you run a business with your spouse and are looking for some ideas on how you can better your work-life balance, then give this episode a listen.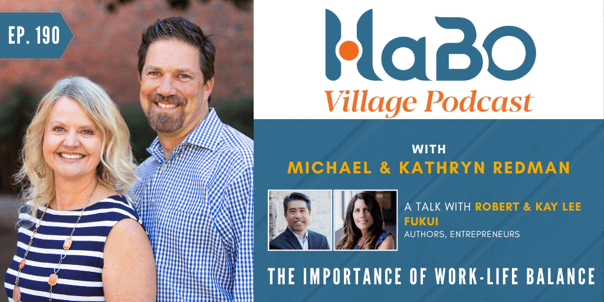 In This Episode You Will...
Discover how Robert and Kay Lee began working together and how they found their strengths.

Find out why Robert and Kay Lee insist on doing their business consulting together.

Get Robert and Kay Lee's perspective on reasons why a couple in business can struggle with their work-life balance.
"If your business is well and your relationship at home is suffering, then you're going to be miserable no matter how much money you make."

- Robert Fukui
References:
Ready to take a listen? Like what you hear? Make sure you become a subscriber to get the latest and greatest of our podcast episode!