Episode 129: Michael and Kathryn interview business coach and entrepreneur, Tracy Wilson, about the challenges business owners need to overcome in order to achieve success. Tracy shares the lessons she learned while building her own business and talks about what leaders can do get back on the right track. If you feel like your business is teetering on the edge, get helpful tips and clarity by giving this episode a listen.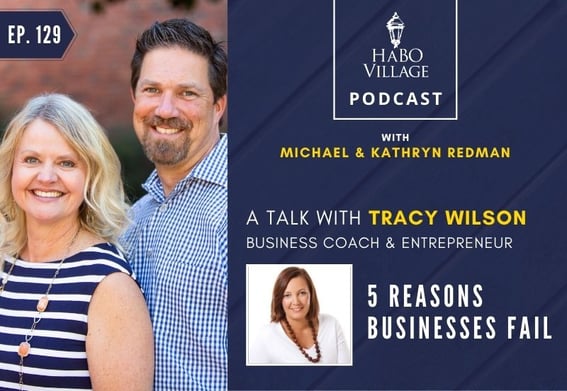 In This Episode You Will...
Discover how Tracy developed her business skills at a young age while raising a child.
Find out the 5 main reasons businesses are failing today.
Learn why writing down your business plan is one of the critical steps to achieving future success.
"Sit down and write your business plan. Put the vision and ideas you've got onto paper to bring it to life - it will act as your north star. It will be a place you can continue to come back to to help keep you on track. It will enable you to say no to the things that are not in alignment with where you want to go. It will give you clarity, focus, and direction."
- Tracy Wilson
References:
The SHE Myth (by Tracy Wilson)
Ready to take a listen? Like what you hear? Make sure you become a subscriber to get the latest and greatest of our podcast episodes.