Episode 152: Michael and Kathryn interview Stacey Brown Randall, business referral coach, on the best way to win referrals. What if the most successful referral strategy had nothing to do with asking... but everything to do with relationships? If you've always operated with the mindset that you constantly have to ask for referrals in order to get them, then this episode is for you.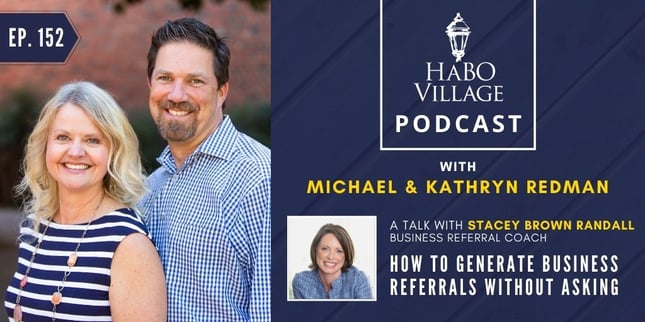 In This Episode You Will...
Discover what human psychology has to do with your referral strategy, and why you've probably been generating referrals incorrectly for years.

Find out simple steps you can take to execute a successful referral plan.

Get tips on what to delegate, and learn what pieces of your referral strategy you'll need to personally own.
"Referrals come from relationships, and relationships are maintained through connection."

- Stacey Brown Randall
References:
Stacey's website: www.staceybrownrandall.com
Quiz: Uncover Your Referral Ninja Level (your skills and abilities at generating referrals without asking)
Ready to take a listen? Like what you hear? Make sure you become a subscriber to get the latest and greatest of our podcast episodes.